Integrating ancient wisdom and shamanic practices with our contemporary world
The Divine Imagination 2024
Course dates:
Feb 16th-18th
March 15th-17th
April 19th-21st
May 31st-June 2nd
July 19th-21st
Through the support of the medicine wheel we examine our shadow, we look at how, what we carry in our unconscious, is impacting our life
and those around us. We work with the native plant remedies as a basis to the work and look at the heritage of plant communities, in our shamanic journeying we meet the wise one in the underworld.
Into The World
 July 2024 – Dec 2024
Waiheke Island
In this established course we invite you to dive deep into a foundation of learning that integrates ancient wisdom with contemporary living. Through observation and the imaginal mind we explore the mystical, the natural world and our unique relationship to the world around us. This is an experiential course, held within the old wisdom of the medicine sphere. There are six weekend workshops with each workshop designed to build on each other. We investigate plant medicine, Lasavia vibrational remedies and ancestral patterning. We receive understanding of our ancestors through connection to place and landscape. We experience shamanic journeying in a grounded and safe environment. We particularly value upholding the unique gifts each person has and how this can be valued through community.
Crafting a Shamanic Drum
5th – 7th April 2024
held at The Friends House, Palm Beach, Waiheke Island.
Teachers are Leila Lees and Danny Pieren
$580 including materials, morning and afternoon teas and accommodation.
This workshop limited to 12 people.
6 – 9.30pm Friday, 10am – 5pm Saturday and Sunday.
The drum activates a journey into non-ordinary reality and brings the journeyer back home. In shamanic journeying there is often an intention that by entering the unseen realms we receive help from spirit companions and return home with wisdom and knowledge to heal.
Crafting is often about our trust and connection to the materials and tools we work with. The way we hold space for this is to give time to allow for our arrival, our connection to place and environment and to each other; from here we can be present to the crafting and creation of our drums. This is the wisdom of sacred space, the connection to each part of the drum making and how we are in that relationship.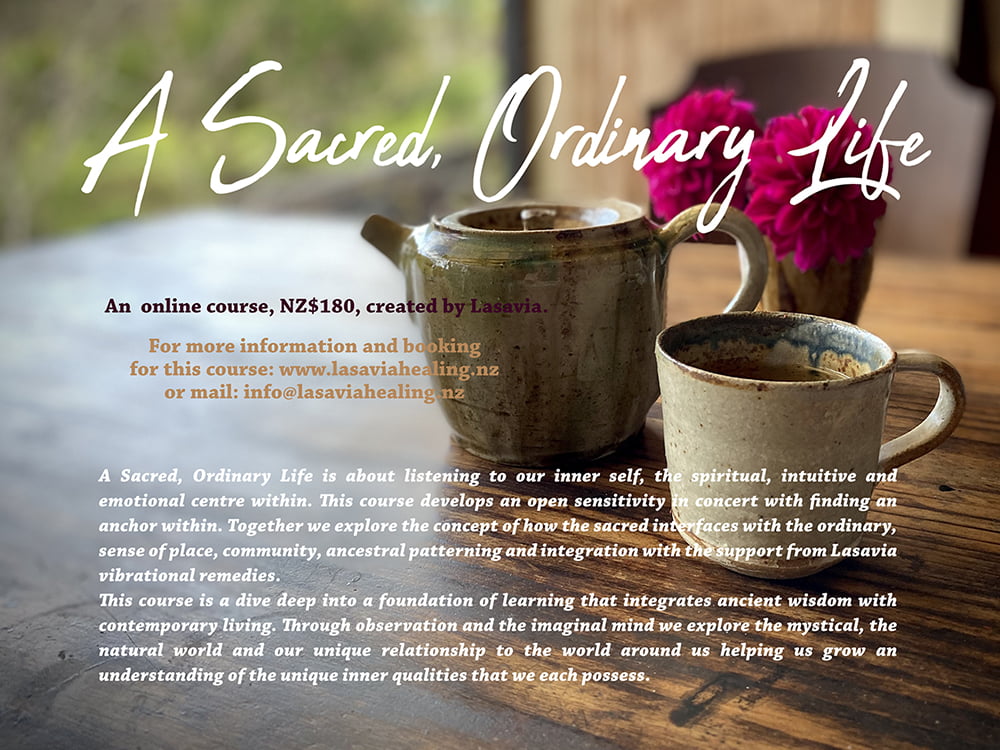 A Sacred Ordinary Life – 
An Online Course 
A Sacred, Ordinary Life is about listening to our inner self, the spiritual, intuitive and emotional centre within. This course develops an open sensitivity in concert with finding an anchor within. Together we explore the concept of how the sacred interfaces with the ordinary, sense of place, community, ancestral patterning and integration with the support from Lasavia vibrational remedies. This course is a dive deep into a foundation of learning that integrates ancient wisdom with contemporary living. Through observation and the imaginal mind we explore the mystical, the natural world and our unique relationship to the world around us helping us grow an understanding of the unique inner qualities that we each possess.
Foundational Essences
Discover the foundations of the Lasavia Healing range of essences, working at the level of blueprint towards deep inner connection and transformation >
Courses
Lasavia Healing offers courses in shamanic practice and development of an intuitive connection to your deeper self >
Personal Remedy Blend
Meggan Young will create your personal remedy blend for you – you can choose to have a consultation, or to have your blend created intuitively >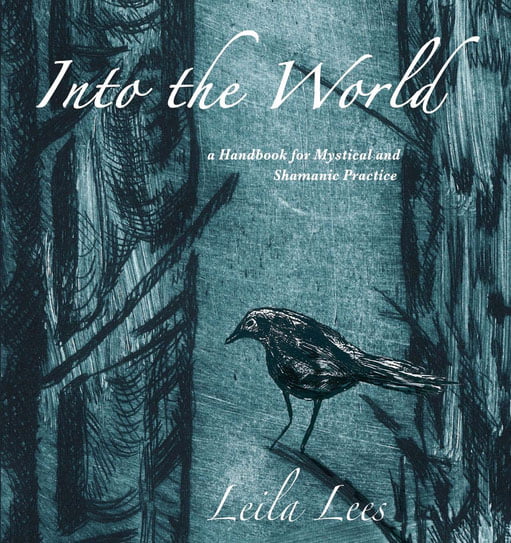 Into the World: a Handbook for Mystical and Shamanic Practice, by Leila Lees
I wrote Into the World because I am passionate about human consciousness. As we begin to experience our own integral self and find our moral compass in our hearts, I see that we may create space for each other to exist. We do this within a dynamic community that is conscious of its interconnection with an even greater, more diverse ecosystem >
The Little Book of Remedies by Leila Lees
The Little Book of Remedies is an illustrated handbook to accompany the Lasavia vibrational remedy range. This book covers the fundamentals of how to use vibrational remedies and the ideas behind them. It includes Lasavia's thirty-five vibrational remedies: wild weeds, native plants, birds, insects, minerals and trauma blends >
​Piripai by Leila Lees
Leila's most recently published book, Piripai is natural history as prose poetry. It is a story of place, time and a subtle coming of age on the sand dunes between the river and the sea >
Lasavia Healing offers courses in shamanic practice, working with the medicine sphere in co-creative circle.
Lasavia Healing workshops and courses work with the structure of the medicine sphere, honouring the east, north, west, south, the above, the centre and the below. In each direction we find a reflection of ourselves that offers insight and integration, and through experiencing and sharing these insights we are able to learn from ourselves and each other.
This training accentuates the naturalness of our spirituality and the need for acute observation and awareness. These courses are transformative, designed to support each of us to access our individual gifts, bring our lives into a spiritual context and connect with our natural environment.
The Lasavia Healing Essences are the foundation and support for our teaching and are interwoven throughout.
Plant, insect, bird and mineral essences
Vibrational medicine, connection with the natural world
The
Lasavia Healing Essences
are created through an intensive gentle process that involves listening to the elemental kingdom.
The lineage that stands behind our essences arises from two pathways that come together, from a connection to the people and land of Aotearoa New Zealand and of people who connected, communicated and worked with the elementals spanning centuries through Britain and Europe.
Most people through their lives experience disharmony through conditioning (ancestral and cultural), emotional disharmony and a disconnection to the soul and to nature through crisis, trauma or simply managing their life on a daily basis. Lasavia Healing Essences are a gateway through nature to a connection to our soul's blueprint, supporting the subtler bodies and acting upon the pattern that is causing the disharmony.
We offer individual essences, trauma blends and personal blends.
individual and community consciousness through connection
We value diversity and encourage the growth of an individual's particular gift, within the support of a diverse community.
We value truth, and encourage the building of an intrinsic ethical foundation.
We value humility, understanding that we are part of a vast dynamic interconnected ecosystem.
Our logo encompasses the concept of the three pathways: the mind, the heart and the pathway of devotion.
Our foundation is our participation and connection with nature.
Lasavia – the life force encompassed in the spiral. We all arise from source and are connected to all things through this unity.
Foundations
Lasavia Healing was founded by Leila Lees on Waiheke Island, Aotearoa New Zealand.
Leila is a teacher and facilitator in nature awareness, shamanic practice and plant spirit medicine. She has created the Lasavia Healing Essences range of vibrational medicine, working with our nature allies on an energetic and emotional level. As a mediator between physical and non-physical dimensions, Leila has supported people to access their own inner guidance, enabling them to integrate their intuition and experiences of the non-ordinary world into their lives.
In supporting people to access their own gifts and talents, Leila brings people to an expanded awareness where we can access our own ability to connect with the energy infusing this physical world. Leila has trained shamanic practitioners and established sacred circles. Her teachings are the foundations of the Lasavia Healing Foundation and Diploma courses. She is also working on creating an online course in the Essences.

For information on workshops, courses & events in shamanic practice, co-creative circles and vibrational remedies
Newsletter archives >